May 2021
Replay our May meeting to learn about local efforts to support our Western Monarch population and other pollinators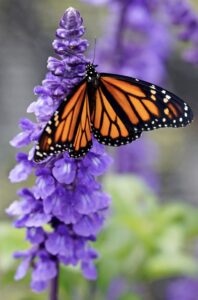 Ann Baldridge, Community Programs Director  of the Resource Conservation District of San Diego County* presented at our May 20 Zoom meeting about how local groups are coordinating to support our Western monarch population.  Ann explained the monarch life cycle, the San Diego Pollinator Alliance and its native milkweed project, as well as the overall threats to monarchs and why this effort has become imperative.  Click below and enter the passcode to replay a full recording of this informative session.
Meeting Recording:
Access Passcode: &VA08tVg
*In partnership with the Fire Safe Council of San Diego County and Wild Willow Farm and Education Center
Milkweed Giveaway

 

Exceeds Expectations
More than 90 Solana Beach families collected 350 free, native milkweed plants and 1,430 milkweed seeds on April 24, joining a pledge to help make Solana Beach friendly to Western monarchs and other pollinators. To date, the effort also has been supported by more than $1,700 in donations.
On April 23, the City's landscapers transformed the parking-area garden at La Colonia Community Center into our first public pollinator park.  Long-time butterfly gardener (and our Civic Affairs chair) Cindi Clemons helped supervise placement of 100 native milkweed and nectar plants. 
Milkweed is the only plant where female monarchs lay their eggs; it's the only food monarch caterpillars eat. Nearby nectar plants provide food for the adult butterflies and shelter for the caterpillars and chrysalides after they pupate.
Sign-ups for the plants poured in after the City's eBlast on April 21. Our entire supply — provided by the City and SeaWeeders — was reserved within hours. A last-minute donation and several "no shows" made it possible to meet demand and still have plants to spare for more public pollinator patches.  On April 28, after some weeding and clean-up, we began planting at our community garden on the Coastal Rail Trail.  Want to help? Email sbseaweeders@gmail.com.
The ongoing pollinator project is a joint effort by the City, Climate Action Commission and the SeaWeeders.
April 2021
Solana Beach Steps Up for Our Western Monarchs
City Council in March agreed to take the "Mayors' Monarch Pledge," a challenge sponsored by the National Wildlife Federation to promote the development of pollinator habitats and eliminate practices that are harmful to endangered monarch butterflies.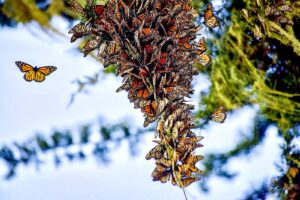 As reported March 6 by the San Diego Union Tribune, "Western monarch numbers have been steadily dropping for decades, from 1.2 million in 1997 to 30,000 in 2019, but the most recent results from the 24th Western Monarch Thanksgiving Count are staggering — just 1,914 butterflies total, down from the millions that used to migrate from the Pacific Northwest and Central California to overwinter along the coast from Mendocino in Northern California to Ensenada in Baja California . . . . [A]fter wildfire ripped through the area around  . . . Butterfly Town, USA, in the midst of traditional migration season . . . not a single monarch was found in Pacific Grove, a tourist mecca for people who came to marvel at the swarms of Western monarchs that congregate during the winter, clinging to eucalyptus and pine branches to find protection from the cold and wind."
The full article, linked here, outlines several steps we can take to try to rebuild the Western monarch population, starting by providing the habitat they need to lay eggs, feed caterpillars, and protect chrysalises. Your SeaWeeders, teamed with the City's Climate Action Commission (CAC), are here to help! Here's how: 
Plant NATIVE milkweed*

 

rather than the showy stuff at big-box retailers. Here's why. With the CAC, we are planning a drive-through to distribute organic, native milkweed seed and seedlings on the morning of April 24 at the Boys & Girls Club, Lomas Santa Fe Drive, west parking area.

 

Watch for ordering and details to come.
Plant lots of native nectar flowers, too, so your butterflies have food to sip. Consider Yarrows, California lilac (Ceanothus), Salvias, and Monkeyflower (Mimulus).

 

With the CAC and other local partners, we are developing a guide to for (nearly) year-round support of our local pollinators.
Don't use pesticides or herbicides. They are toxic to caterpillars; the aphids that might flock to your milkweed aren't.

 

Email to request non-toxic insect repellent and weed-killer recipes you can make at home.

 
*Asclepias Albicans-Whitestem Milkweed, Asclepias Californic-California Milkweed, Asclepias Eriocarpa- Indian/Woollypod Milkweed, Asclepias Erosa-Desert Milkweed, Asclepias Fascicularis-Narrowleaf Milkweed, Asclepias Subulata-Rush Milkweed
(Source: Monarch and Friends)
How about cooking without gas?
The City of Solana Beach's recent Electrification Workshop reviewed several options for replacing aging gas-fueled home appliances with more efficient, all-electric heaters/air conditioners, water heaters and cooktops.  The goal is to reduce related greenhouse gas emissions and advance achievement of the City's Climate Action goals for 2035: 
Reduce annual greenhouse gas emissions by 50%

 

from the 2010 baseline
Ensure 100% of electricity used in city comes from renewable sources.
Click here to view a recording of the full session. 
Society Civic Affairs Chair and Corresponding Secretary Cindi Clemons attended and decided to experiment with an induction cooktop, taking advantage of a free loaner program offered to residents. Here's her report: 
Induction cooktops and ranges heat cooking vessels — your pots, pans, and other cookware – through electrical induction. How does induction work? Instead of using thermal conduction, such as the open flame from a gas stove or a coiled electric heating element, induction uses an electronically controlled coil of metal inside a glass cooktop.  When you turn an induction stove on, current flows through the coil, creating a magnetic field directly around it, and heat is generated within the cooking vessel itself.  This is why you must use cookware with magnetic, induction-ready materials, such as stainless steel, with an induction cooktop.
I plugged the borrowed  unit into a 120v electric outlet near my range and cooked a variety of meals — soups, omelets, scrambled eggs, halibut in a lemon sauce, and pot roast in a red wine sauce. Each of the dishes turned out better than any of the same I have prepared over the years on gas or electric ranges. 
Raising and lowering the temperature was fast and precise. The on and off response of the unit was instant according to whether I was placing the pot on or taking it off.  Everything I prepared cooked more evenly and quickly, I think because of the transfer of heat to cookware. There was also a timer that turned the unit off when the cooking time was up.The cooktop is ceramic glass, making it very easy to clean with just a damp cloth and bit of detergent. The controls are all digital and flush to the unit for added easy clean up. 
I also learned that induction cooking is healthier and safer than other methods. You may not know it, but gas stoves emit nitrogen dioxide and carbon monoxide into your house. Not good for you and not good for the environment. Also, because there is no open flame the unit cools very quickly. There is no possibility of a gas leak or line leakage. 
As you can see, I learned a lot about this new efficient, healthy and climate-friendly way of cooking and you can too!  To borrow a unit and large pot email info@sd-gbc.org; loaners will be available again starting  April 22.
March 2021
Click Here to Replay our "Lunch and Learn" about Organics Recycling
Is it really OK to toss a half-eaten hamburger and fries in my green waste bin? I would never add meat or oil to my compost pile! Yes, EDCO's Anaerobic Digestion Facility is designed to break down food waste, including even bacon grease.
Why can't I put unbagged pet poop in my green bin? Mostly out of respect for EDCO waste handlers  who sort out inappropriate green bin contents.

Should all newspaper and paper bags now go into the green bin?  No, clean newsprint and paper bags should still go into the blue recycling bin. Soiled newspapers or paper bags used to collect kitchen scraps, as well as parchment paper, paper towels, and unwaxed fast-food take-out wrappers should go into the green bin. Please do NOT put plastic bags, wax paper, or coated cardboard into the green bin.

What's wrong with 'biodegradable' plastic bags?  They don't really degrade in a timely manner.

And what is EDCO going to do with all of that biogas and digestate it will generate in it's fancy new Anaerobic Digestion Facility? Can customers get free fertilizer?  Biogas will be refined into fuel for EDCO's fleet.  Digestate will be distributed for agricultural purposes. Some of this output may, in the future, be available for residential gardening.
Can apartment and condo dwellers participate in Organics Recycling? Programs for multi-family dwellings are being developed. Meanwhile, apartment and condo residents might try finding a "composting buddy" who will add their kitchen scraps to a neighborhood green bin. 
We got answers to these and many more questions about the City of Solana Beach and EDCO's adoption of organics recycling in a virtual meeting on March 18.  EDCO General Manager Jim Ambroso and Chris Spielmaker, Director of Market Development, joined veteran composters Irina Grongborg and Kristine Schindler of the SeaWeeders to explain new green waste-bin expectations and offer some practical tips for sorting kitchen scraps.  Click here to view the hour-long session.
To learn more, view an educational video, or request a free, 1.5-gallon kitchen caddie for scraps or to order additional green waste bins, visit the Organics Recycling page at edcodisposal.com.  Scroll to the bottom to find the link and form for ordering your kitchen caddie.
February 2021
Click here to Replay our "Lunch and Learn" with Latino Historian Maria E. Garcia, author of "We Made San Diego"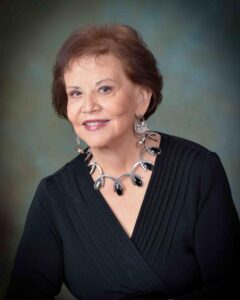 Maria Garcia is a retired school principal and has been an activist in the Chicano movement since 1968. She is the recipient of the 2015 SOHO Cultural Heritage Award for her "Neighborhood House" series about life in Logan Heights. She was inducted in the San Diego County Women's Hall of Fame in 2016 and has been honored by the San Diego Union-Tribune as a Latino Champion.
Maria's current book tells various stories about Latinos who contributed to the history of San Diego, including community activists who have worked to affect social issues.  It also chronicles the experiences of several Latino veterans of the war in Vietnam.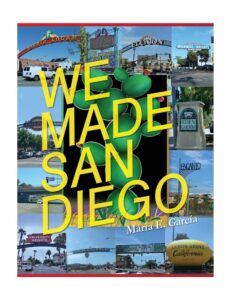 The book took five years to write, after compiling dozens of oral histories. "We Made San Diego" also includes a contribution by Society Historian and Heritage Museum Curator Lisa Montes. 
Maria said her interest in La Colonia, Solana Beach's original neighborhood, started with the street names.  "So many were in Spanish," she noted. Local resident Gina Gonzales set up a meeting where she and eight other women shared stories about growing up in La Colonia.  Maria also met with Ray and Theresa Rincon of  Tony's Jacal restaurant and its long presence, as well as Simona Gonzales, who started the first Girl Scout troop in Eden Garden and who, with her husband Frank, coached a 1959 Little League World Series playoff team.     
"The men and women in this community worked as house keepers, gardeners and raised their children. They united to save a church. They sent their sons to fight in WWII, Korea, Vietnam and every war since then.  In the 1980s, when the whole country faces a drug problem, La Colonia faced the same problem. The [San Diego County] Fair and the race track contributed to the financial growth  of business in La Colonia. People such as Lucy and Desi Arnaz, J. Edgar Hoover and sports figures and jockeys were all part of the community," she notes.
Maria was born in Yuma, Arizona and moved to San Diego at age 3, growing up in Encanto. Following are insights to her background and activism excerpted from a 2017 interview with the San Diego Union- Tribune:  
"My biggest challenges have been the racism I faced as a young child. It affects the way you see yourself for years. . . My first year of school I learned that eating tortillas was wrong since my poor mother received a call asking that she not pack tortillas in my lunch so that the other students would not make fun of me."
"That negative self-image I experienced as a child stayed with me for the next 12 years of my life. I guess that's why I experienced such interest in the Chicano movement. It gave me a place to belong. The Chicano movement gave me pride in who I am."
After attending San Diego State University and and joining the Chicano Movement, "I believed that we would change the world. I honestly thought by being educated and teaching future generations not to be racist, we would have a different world by the year 2000. I was so naïve. I thought by fighting for equality and teaching the history of our accomplishments in this country we would be respected. The movement taught me so much about working together. I loved the unity experienced in a picket line. I loved learning about people and historical events which came via the Chicano Studies classes I took at SDSU."
While going to college as a business major,  Maria worked as a teacher's aide, which convinced her to change her major and become an educator — based in Southeast San Diego, rising through the ranks to become a vice principal and principal.  After retiring, she worked as a teacher at the Ronald MacDonald House.  "I worked with the children whose siblings were at Children's Hospital. My goal was to give these kids attention and some form of  'fun.' In some cases, they were watching their sibling dying and needed that special attention."
"Lately my motivations have been to make sure that others know about our contributions to this country and especially to San Diego . . . I think we have so much untapped power in our community we just have to move it forward to gain the respect and recognition we deserve."
"We Made San Diego" is available for purchase through Amazon books.
January 2021
Enjoy a meal from Tony's Jacal and support your community
Like so many restaurants across San Diego County and the country, one of the oldest eateries in our community has been hard hit by restrictions intended to control the spread of  Covid 19.  Tony's Jacal Restaurant, operating in La Colonia de Eden Gardens since 1946, has had to lay off nine kitchen staff members this year.  (The SBC&HS and La Colonia Foundation donated grocery store gift cards to those families following our December food drive.)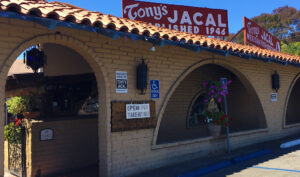 Despite tight finances, Tony's continues providing free Monday meals to the Solana Beach Fire Department, health care workers and other first responders. "My parents taught us the importance of giving to others, even — maybe especially — in tough times," matriarch Teresa Rincon told Lisa Montes, our Society Historian and member of the Board of the La Colonia Community Foundation.
You can help support the historic restaurant and our first responders simply by dining in or ordering take-out from Tony's for lunch or dinner.  
December 2020
Year-end food drive surpassed our goals
The Solana Beach Civic and Historical Society and the La Colonia Community Foundation would like to thank everyone in Solana Beach who made donations and volunteered to help with our food giveaway at La Colonia Community Center on December 19-20. It was extremely successful.   
We were able to provide food for  193 Solana Beach families, impacting 955 individuals — more than double the goal for the event.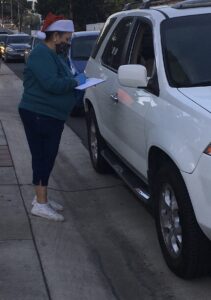 The Wounded Warrior Homes organization provided us with 2,000 pounds of non-perishables and 450 pounds of fresh vegetables picked up and delivered to us by several volunteers. The Community Resource Center in Encinitas and the Produce Good organization donated additional food. On Saturday,  Dec. 19, generous community members lined up for two hours giving us food, toiletries and more than $2,000 in gift cards to local grocery stores.  In all, an estimated three tons of food was collected, along with toys and clothes.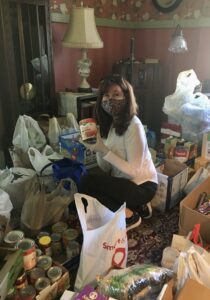 Volunteers from Teen Volunteers in Action and their parents helped sort food and move it to the distribution site. Thank you to CVS in Solana Beach who let use their shopping carts to help with the transfer of food. Thank you to Danny Hernandez for delivering the shopping carts.
Jewel Edson and Dave Zito helped us from The Solana Beach City Council. Dan King from the City came on the weekend to lock and unlock the Community Center for us. Tina and Joe Zucker represented the Women's March, Solana Beach and were generous with their time.
Thank you, too, to all of the others who helped us in some way; if you saw the continuous line of cars picking up food you would have been proud of your efforts. In addition to families who walked to get their food, cars were parked on the side of the road from Genevieve down Valley to the park entrance beginning at 3:30 for our event, which didn't begin until 4:00.
Thank you Solana Beach for all of your care and love for members of our community. Solana Beach has heart! Solana Beach tiene CORAZON!
Pat Coad, Communications Chair
December 2020
Creating our first-ever 'virtual' Holiday Crafts Boutique
As usual this Fall, Holiday Boutique inventory started piling up in Pam Dalton's living room and on Lenore Dale's dining table. That's about where the "usual" ended. 
This year, instead of Crafts Group get togethers there were Zoom calls, starting Sept. 2 with discussion and a commitment to pursue a digital Boutique.  With that agreement — and way more determination than experience — the Society's eCommerce era was born.  "We really had no idea what we were getting into," Lenore recalled during a recent "recap" Zoom call with the Boutique team.
But their own online shopping guided expectations.  For example, unlike in prior years, every item would need not only a "stock keeping unit" (SKU) and detailed description, but also a flattering photo. "Oh, and after Lori Borowski, Pam, her grandson and I took several hundred carefully-staged photos, we found out they had to be square, not rectangle," recalled newly-minted e-commerce lead Lenore.  "So, after editing every photo into a square, we uploaded each with a title, description, SKU, price and category, so it could be sorted and searched." 
The virtual shop was assembled in something called "Woo Commerce" (not kidding), which, in turn, was outfitted with "widgets" and a "Wordfence" to ensure security around online transactions.  "We weren't only learning how to build a web store," said Kathleen Drummond, who tackled techie chores with Lenore, "we were learning a new language."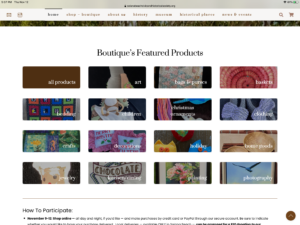 As the countdown-to-opening ticked on, it became clear that some professional web help was needed. Through our volunteer Brett Johnson, who completed an initial site upgrade to make ready for e-commerce, Lenore found Chris Stone, a Palm Springs-based artist and designer. Chris updated the Society's website navigation and home page, creating a new "Get to Know Solana Beach" feature to take users to our History, Heritage Museum and Historical places pages, as well as the showcase of Boutique products categories.
Opening Day, Nov. 9, was not without hiccups. "At first, only a few items were displaying. In the process of fixing that, folks found their browsers trying to load everything in the store on the shop page," Lenore recalled. Society Communications Chair Pat Coad put out a plea for patience while the bugs were worked out. By late afternoon, each of 394 distinct products were nearly online for everyone to browse. Sales started coming in fast.
A crew of "fulfillment" elves then began the process of picking, packaging and tagging each order for each buyer. On Nov. 13, these were transferred to La Colonia Community center, where packages were grouped alphabetically to await pick-ups. Buyers started arriving a bit after 9 a.m. on Nov. 14, dutifully masked and happy to remain in their cars, per City requirement, while runners brought out their goods.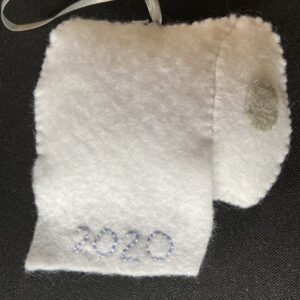 "It all went so smoothly that we actually sent volunteers away early that afternoon," Pam said.  Her grandson Eddie was among the volunteers helping to deliver dozens of packages to buyers who preferred to remain at home. 
After the Boutique "closed," the "store" remained open for sale of poinsiettas for the SeaWeeders 8th annual fundraiser. All 300 sold out by Saturday, Nov. 28, either online or in person at the Post Office.  
Final tallies are still underway, but it appears that the virtual Boutique was successful financially, as well, with close to $7,600 in sales and donations — just shy of last year's record $8,000 in revenue.  "And that's without baked goods," Pam noted. 
Would the Crafts Group entertain another online sale?  "We could!"
November 2020
Thank you Pizza Nova!
Thanks to all who dined at Pizza Nova October 12. The restaurant generously shared 30 percent of the day's receipts from your patronage with the SBC&H, donating $315.30.
July 2020
Society Awards Two College Scholarships to Local Teens
Ryan Luther, 18, and Sarah Senteno, 17, each were awarded $1,000 scholarships from the Solana Beach Civic & Historical Society this summer. In recognition of their accomplishments during a difficult and somewhat truncated school year to pandemic restrictions, the Society also awarded each student an additional $500.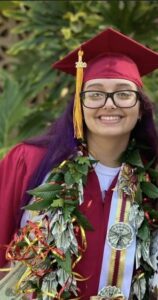 Sarah Senteno is a fourth-generation member of the Robert "Chuckles" Hernandez family of La Colonia de Eden Gardens and will be the first on either side of her family to go to college. She plans to attend Cal State University, San Marcos and study criminology and criminal justice, with a long-term goal to join the Federal Bureau of Investigation. "I want to help people and help to protect my community," Sarah says, adding that recent racial justice demonstrations have firmed only that resolve. Sarah graduated from Torrey Pines High School, where she worked in the cafeteria and was active in AVID (Advancement Via Individual Determination).
Ryan Luther graduated from Santa Fe Christian Schools, where he maintained a 4.5 grade point average while playing four varsity sports, as well as participating in the robotics and academic team. He also was a founding member of the schools' math tutoring Club. You may have seen him dressed as a penguin at the annual Solana Beach holiday tree lighting.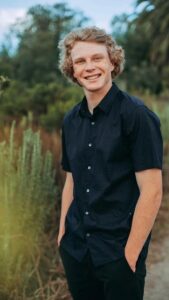 Ryan has committed to the University of Southern California (USC), where he plans to study aerospace engineering with the goal of joining the National Aeronautics and Space Agency or a private space travel company. He says his interest in space travel started while making model rockets with his father and he closely followed the recent Space X launch and transfer of U.S. astronauts to the International Space Station.
Both students said the initial weeks of online learning were a little difficult after pandemic restrictions and state "shelter at home" orders shuttered their schools.  "We had all of the work, but none of the fun," of their senior years, Luther noted.  Still both committed to attending online classes, completing homework assignments and keeping their grades high. Sarah and Ryan and their families participated in "drive by" graduation ceremonies at their respective campuses.
Since 2014, the Society has awarded annual $1,000 scholarships to deserving high school graduates heading to college. A total of 14 scholarships have been awarded over six years. 
Important Notice
General Meetings Suspended due to Pandemic Precautions
In line with public health and government officials' requests to help slow the spread of the novel coronavirus and the Covid-19 disease it causes, the Society will suspend General Meetings until further notice. Your Board of Directors continues to meet via conference and video calls.  We will continue to distribute our newsletter by email at the start each month. If you have suggestions for articles, or would be willing to share information and photos about how you are coping in these historic times, please email solanabeachhistoricalsociety@gmail.com