Crafts Group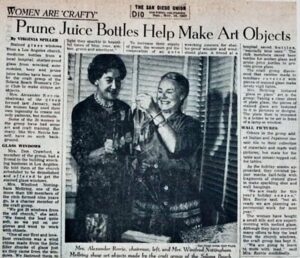 It all began in February 1953 with a "Trash & Treasure" sale to raise beautification project funds for the newly-founded Solana Beach Women's Civic Club.  That first "pop-up" shop at Witmer Drugs (now Lazy Tuna Sushi), netted  $650 to buy and plant shrubs along Hwy. 101. In December, the same year, the Club hosted its first Christmas  Tea and gift sale, launching a tradition that has has expanded and continues annually — our Holiday Boutique.
Crafts Group leader Pam Dalton recounted the early Teas after a long morning of pricing and tagging a staggering array of beautiful, hand-made quilts and pillows, embroidered dish towels and pillow cases, ornaments, vintage ceramics, and more for the 2019 Boutique. "In the beginning, they'd select four or five members' homes to decorate for the holidays and then invite folks in for tea and to select from hand-made gifts for sale," Pam said. The Christmas Tea tradition continued for five or six years, according to co-leader Phyllis Schwartzlose. "Then, before it was renovated, we held rummage sales at Fletcher Cove Community Center, which evolved into the Holiday Bazaar and, now, the Holiday Boutique — which has become quite popular."   
Today, another evolution is underway so the group can sustain the popular tradition during a global pandemic.  The 2020 Holiday Boutique will be a virtual event, with a storefront on this website — opening November 9 — and close to 1,000 items in stock.  Our loyal customers can shop around the clock through November 12 and pay by credit card.  Purchases will be packaged on November 13 for pick up from 9 a.m. to noon on November 14 at La Colonia Community Center.  
In 2019, an estimated 300 shoppers visited the Boutique, generating a record $7,500 in sales. Over the decades, we estimate that the event has generated $200,000  or more to support the Society's contributions to Solana Beach. 
The Crafts Group counts about 30 members, many of whom work year-long in their sewing rooms or art studios, turning rare finds or donations of vintage fabric and laces into one-of-a-kind treasures. "These just showed up on my doorstep this morning," Pam said, displaying adorable sets of hand-knitted baby sweaters with matching hats from an unknown artisan donor. Phyllis also contributes hand-knit baby items, as well as her signature sock monkeys and sets of Raggedy Ann and Andy dolls. "What I love about our group is that we make gifts — year-round presents — not just Christmas items," Phyllis noted.
For much of 2020, members have meet by Zoom video conference for group projects and Boutique planning. Call Pam Dalton for more information at 858-755-8574.